Holiday Donations Appeal 2023
---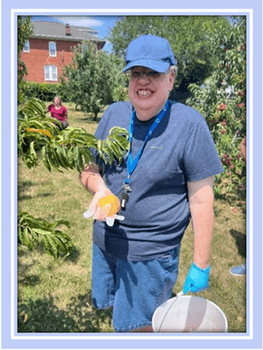 November 2023
 
Dear Friends,
 
This past year marked the 65th Anniversary of The Arc of Frederick County partnering with families and people with developmental disabilities to provide support and lead and promote inclusion within the Frederick community.
With each decade, The Arc and families organized efforts to create and sustain change that assists people with disabilities to attend school, make friends, obtain meaningful jobs, go to college, and live in homes of their choice. Each time The Arc assists someone, we are able to because of the ongoing generosity of neighbors and friends who believe in our mission, values, and each person we serve.
The human narrative finds each hero on their own individual quest where they face challenges, gain insight, and transform. Many times, growth happens because along the hero's path, they meet and connect with others who, at first might seem to be imparting great wisdom, but in actuality, they are merely pointing out that the story's hero had the knowledge and power all along. The hero just needed to be encouraged to find it from within and believe in themselves.
Your generosity to The Arc of Frederick County allows each person we serve to lead their own stories as they find their strengths, plan, and pursue their hopes and dreams while navigating life's journeys. We sincerely thank you for 65 years of believing in each and every person we serve!
Gratefully,
Shauna Mulcahy
Executive Director
---
I want to support The Arc and the many services that help my neighbors!
Select an amount below to be taken to Paypal to complete the transaction.  Thank you for all of your support this holiday season!