Hispanic Outreach
---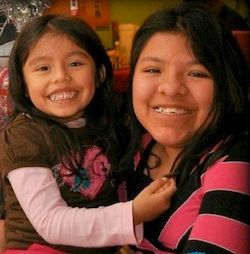 Coordinación de Servicios de Apoyo para la Comunidad Hispana
Si usted conoce a alguien que necesita nuestros servicios y que habla Español, por favor llamar a Rosa Raez en 301-663-0909 x151 o por Email RRaez@arcfc.org.
Los servicios de El Arc son muy variados. Son adaptados a cada situación según las necesidades del individuo y de la familia, y son dirigidos por sus propias decisiones.

El Arc del Condado de Frederick trabaja para garantizar que personas con alguna discapacidad del desarrollo tengan los mismos derechos y oportunidades de los demás ciudadanos.

El Arc ayuda a personas a que puedan participar y contribuir en sociedad, recibir una educación de calidad, obtener buenos empleos, vivir en viviendas dignas, relacionarse con amigos y familia, y dirigir sus propias vidas.
Haz click aquí para bajar un folleto bilingüe con información sobre programas, actividades y contactos de El Arc.


---
Support Coordination for the Hispanic Community
If you know someone who needs services from The Arc who speaks Spanish, please have them contact Rosa Raez at 301-663-0909 x151 or have them email RRaez@arcfc.org.
Download a helpful brochure of The Arc's programs, activities, and contact information in both Spanish and English.
---
Servicios

Coordinación de Servicios de Apoyo

El Arc del Condado de Frederick ayuda a personas con discapacidades del desarrollo y a sus familias a obtener los servicios que necesitan y desean para que puedan vivir tan independientemente como sea posible. El Arc busca soluciones creativas y rentables para ayudar a las personas con discapacidades del desarrollo a alcanzar sus metas.

El Arc ofrece apoyo a niños, a adultos y a sus familias. Debido a que cada persona y cada familia tiene necesidades y deseos únicos, los servicios son personalizados para adaptarse a las peticiones y necesidades de cada persona/familia. Los servicios pueden modificarse a la vez de que las necesidades de la persona/familia vayan cambiando.

Algunos ejemplos incluyen:

- Crear servicios que se necesitan, pero que no están disponibles
- Asistir en tiempos de crisis y ayudar a resolver problemas
- Enseñar habilidades a adultos para que desarrollen su independencia
- Comprar equipo especial que ayude a la movilidad y la comunicación
- Ayudar a las familias obtener un relevo en el cuidado de su ser querido
- Unir las personas con sus comunidades y ampliar el círculo de sus     amistades
- Ayudar a los niños a participar en programas educativos y actividades recreativas en su comunidad de una manera inclusiva y de una manera inclusiva.
- La experiencia del "mundo real", para ayudar a las personas a aprender las habilidades necesarias para vivir por su propia cuenta.

Grupo de Apoyo Familiar Hispano
Para familias que tienen hijos con alguna discapacidad. Este grupo se reúne para dialogar sobre temas de mutuo interés, aprender de los demás, tener un momento de compañerismo, y fortalecer lazos de amistad dentro de la comunidad hispana.

Día de Descanso para Padres
Este programa proporciona unas horas de descanso a padres de niños con discapacidades de desarrollo. El programa, que se ofrece cada mes de forma gratuita, normalmente se ofrece el tercer sábado de cada mes de 10:00 am - 2:00 pm en el sala de entrenamiento en las oficinas de El Arc. Los sábados, esta sala se convierte por arte de magia en un salón de juegos lleno de juguetes, actividades, libros, y risas. Los niños pueden participar en una amplia variedad de actividades que incluyen manualidades, juegos, pintura, todo dentro de un lugar seguro y supervisado.

El programa está abierto a niños de edades de 3 a 14 años. Pre-registro es obligatorio pues el cupo es limitado. Un formulario puede ser enviado a usted si contacta a David Moreno llamando a El Arc - 301-663-0909 x151. Los padres también están obligados a llamar después del primer día de oficina de cada mes para reservar un cupo para sus hijos para ese mes.

Otros Servicios

- Sibshops
Talleres recreativos para los hermanos de niños con discapacidades del desarrollo

- Planeación para el Futuro
Asistencia para planear el futuro financiero, de vivienda, y de vida de su hijo(a) con discapacidad.

- Juventud en Transición
Información sobre los servicios y los planes para la vida después de que un jóven con alguna discapacidad del desarrollo se gradúa de la escuela pública. Es de vital importancia tener en cuenta esta transición, pues de esto depende el futuro laboral, financiero y de vivienda de esta persona.
Preguntas Frecuentes
- Qué es El Arc del Condado de Frederick?
El Arc del Condado de Frederick provee información, asistencia, y servicios de apoyo a individuos con discapacidades del desarrollo y a sus familias. El Arc les asiste a acceder a recursos, aumentar sus conexiones en la comunidad, y a abogar por sus derechos . Nuestra organización busca soluciones creativas para ayudar a las personas con discapacidades de desarrollo alcanzar sus metas.

- Que son las discapacidades del desarrollo?
Las discapacidades del desarrollo son un grupo diverso de limitaciones físicas, cognitivas, psicológicas, sensoriales y del habla que comienzan en cualquier momento desde el comienzo del desarrollo. Un individuo con una discapacidad del desarrollo es aquella persona con discapacidad intelectual, impedimentos auditivos (incluyendo sordera), impedimentos del habla o lenguaje, impedimentos de la vista (incluyendo la ceguera), trastornos emocionales serios, impedimentos ortopédicos, autismo, lesión cerebral traumática, otros impedimentos de salud, o discapacidades específicas del aprendizaje.


- A quién puedo llamar en El Arc que hable Español?

Llame a Rosa Raez al (301) 663-0909 x151 con cualquier inquietud o pregunta.
Contacto
Si desea más información sobre los servicios que ofrece El Arc, o si necesita asistencia para obtener recursos del Estado o servicios de la comunidad que podrían ser de beneficio para usted, su hijo(a) o a alguien con alguna discapacidad del desarrollo, por favor de contactar a:

Rosa Raez
Coordinador de Apoyo Hispano

Teléfono: (301) 663-0909 x151 
Email: RRaez@arcfc.org