The Unity Campaign supports the over one in three households in Frederick County that struggle to afford basic human necessities! Together, we can make a difference! The Unity Campaign is a collaborative project between nonprofit partners, sponsors, and the greater Frederick community to support our most vulnerable neighbors by giving to a nonprofit organization of their choice during the 12 Days of Giving from September 11th through September 22nd.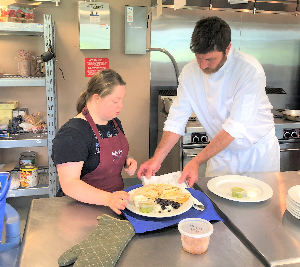 The Arc and Unity Campaign
The Arc of Frederick County is anticipating budget cuts on a statewide level and this will require The Arc to cut back on specific programming and unfortunately we will need to scale back our time spent on support groups. We would like to apply monies raised through The Unity Campaign towards our efforts for support groups as we know it is a very valuable resource for individuals and families. The Arc of Frederick County greatly values the opportunity to be a part of The Unity Campaign as its collective impact on the Frederick community is incredible. It is important for members of the Frederick community to see all of the nonprofits working together to serve Frederick. By donors seeing the greater impact, it adds leverage to those requesting donations. Our goal is $7,500!
Incentive Match Sponsors
Through the generosity of our Incentive Match sponsors, 100% of your contribution goes directly to the designated Nonprofit. In addition, your individual gift is boosted because a portion of your donation is matched by the sponsors.
Click here to donate: https://app.mobilecause.com/vf/UnityFrederick/team/TheArc